Watercolors are inexpensive, easy to find, and easy to handle. They aren't too messy, and don't require an elaborate setup. Most people are familiar with watercolors through school projects, etc.
Windsor Newton, Grumbacher watercolors. Tubes, watercolor sets, cake watercolors. All are acceptable, choose whatever you prefer, to fit your budget or personal tastes.
Cotman Field Box - Wow! If you can afford this, GO FOR IT! Comes with Winsor-Newton cake watercolors. This is an itty-bitty compact travel watercolor kit. You can fit it in your back pocket (just about) and yet it has a brush, a water cup, palette, the works! Everything you need to paint on location, without having to drag around a huge paint box. It is fabulous. I have one, somewhere (I must have lost it when I moved). It is wonderful for traveling, but it is a bit expensive.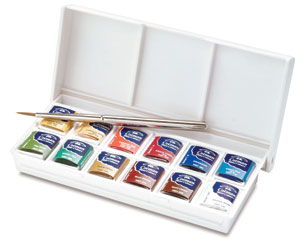 The Cotman Field Box (top illustration) is fabulous. But if you can't afford it, the Sketcher's Box (bottom illustration) will do pretty well!
There are a variety of watercolor brands to choose from. Winsor-Newton is ubiqutous and easy to find anywhere. Cotman is the "Student" grade (for newbies) but if you're starting out, that's what you should use! There are also Winsor-Newton Artist Watercolors, which you can go for if you've been painting for a while or have the funds.
As far as watercolor paper goes, I like the slightly smoother type of paper, but the rougher texture is nice too. Once again, the big brands (Strathmore, Grumbacher, etc.) are the ones I usually use.
There are a lot of cheap, cheap, cheap brands of watercolors. They are great for goofing around (I have done plenty of that, it's great practice). But, most of these cheap brands are not very lightfast. If you create your ultimate masterpiece with cheap watercolors, it'll eventually fade, especially if it's out in the sun.
But that doesn't mean you shouldn't use inexpensive watercolors, if you are just starting out. They are such a great bargain, and because you know they didn't cost a lot, you won't go stingy on them. (Some people think, "Oh, it cost too much! I'll just save it for special projects!" And of course the "special project" never comes.) So, it's much better to go crazy, and use some inexpensive paper, inexpensive watercolors, and have a ball!
All these products are available at Blick Art Materials.
I always shop there when I don't feel like driving downtown to the "good" art store. They have supplies that I've never seen anywhere else, even in the largest art stores in downtown Los Angeles.
No permission is given to use the information, (graphics, text) on this site in any other way other than for individual use. You may not use, publish or copy the information to a floppy disk or any other type of storage system or device without permission from me, JR Dunster. You may only print out one copy of each page (for personal use only).